Welcoming Refugees
Through Private
Sponsorship
Private Sponsorship: A New Way to Resettle Refugees
The biggest innovation to refugee resettlement in 40 years is here. The U.S. government has launched Welcome Corps, a Private Sponsorship program that provides a new legal pathway for refugee resettlement.
Now groups of five or more private citizens can resettle refugees in their communities. Private Sponsor Groups welcome, support, and assist refugees as they rebuild their lives. Your Exodus Team walks alongside Private Sponsor Groups every step of the way. 
In this exciting new chapter of resettlement, your Exodus Team is mobilizing Private Sponsor Groups and is ready to equip and support them. If you're interested in learning more, we want to connect with you! Please contact Carissa Zaffiro, Mobilization Manager, at carissa.zaffiro@exodusworldservice.org.
How to Be Part of Private Sponsorship
Ready to get involved in Private Sponsorship? Your Exodus Team is here to help you, your church, or your group understand this new opportunity. Here's how you can learn more about forming a Private Sponsor Group.
Attend an Info Session
Tuesday, December 12 | 7:00 pm – 8:15 pm on Zoom
Video: The Joy of Serving as a Group
When Zahra arrived in the U.S. from Afghanistan, new friends surrounded her with care and practical help.
In this brief video you'll see a story reflective of what Private Sponsorship looks like, from a group of Exodus volunteers who welcomed a newcomer before the Welcome Corps launched. This small group experienced the joy of serving together!
Frequently Asked Questions about
Private Sponsorship
What is Private Sponsorship?
Private Sponsorship is a new U.S. program that empowers everyday Americans to come together to resettle refugees in their communities. This new legal pathway, through the Welcome Corps, operates alongside existing pathways, creating opportunities to expand welcome.
What is Exodus' Role in Private Sponsorship?
Exodus is an accredited Private Sponsor Organization through the Welcome Corps. That means Exodus is recruiting and supporting Private Sponsor Groups as they prepare for, receive, and care for refugee newcomers. Your Exodus Team is providing resources and training to volunteers. Private Sponsorship offers a new legal pathway for refugees to resettle in local communities and operates alongside existing pathways. As such, all of Exodus' current programs are continuing, as well.
How can I get involved with Private Sponsorship?
You can form a Private Sponsor Group (PSG) to resettle a refugee individual or family in your community. American citizens and permanent residents can come together to form PSGs. To qualify, groups must have a minimum of five members who are over the age of 18 and who live in or near the same community.
What are a Private Sponsor Group's responsibilities?
Private Sponsor Groups commit to providing welcoming services to arriving refugees for their first 90 days in the community. They secure and furnish housing, provide for initial basic needs, and make connections to relevant services, such as health care, education, and employment services. Most importantly, welcomers offer friendship and support to newcomers as they rebuild their lives. Even though the sponsorship commitment is for just 90 days, the friendships built may last a lifetime.
Your Exodus Team is providing PSGs with tools and resources, including a budget template, fundraising support, an arrival checklist, and ongoing guidance throughout the sponsorship period.
Who are the refugees who will be welcomed under this program?
Like the refugees served in all of our programs, refugees welcomed through private sponsorship fled their country due to war or persecution and are approved for resettlement by the U.S. government. Later in 2023, PSGs can name specific refugees to welcome, creating opportunities to reunite family members.
Many of those who will be welcomed by private sponsors in the first few months will come from Sub-Saharan Africa, where they have been waiting in refugee camps for years.
How do I become a Private Sponsor?
You can become a private sponsor through a multi-step process that includes forming a group of five or more individuals, completing an application process, undergoing a background check, and demonstrating sufficient resources.
What is the financial commitment to sponsor a refugee?
Sponsors must raise a minimum of $2,425 in cash and in-kind contributions for each refugee newcomer being welcomed. This is used to secure and furnish housing and provide for the refugee's initial basic needs.
Do Private Sponsors need to live in the Chicago area to be served by Exodus?
Private Sponsor Groups from anywhere across the U.S. can partner with Exodus. There is no geographic criteria in order for Exodus to serve you as your Private Sponsor Organization. If you're interested in learning more about Private Sponsorship (from wherever you are!), we'd love to talk with you.
Exodus walks alongside volunteers every step of the way. Ready to learn more? Email carissa.zaffiro@exodusworldservice.org to get started.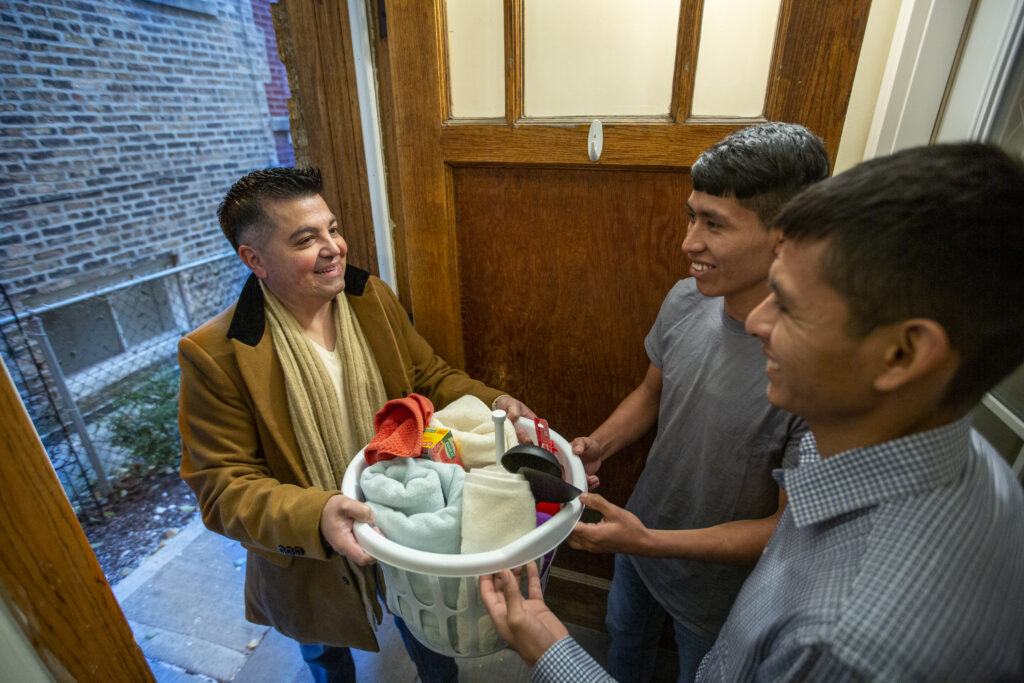 Give Now to
Bless Refugees
Want to help expand welcome to refugees? 
Your gift today will help mobilize, train, and support volunteers through Private Sponsor Groups, providing more opportunities for refugees to find safety in the U.S.