You can better understand the refugee experience by reading firsthand accounts of refugees and learning about the complexity of issues surrounding displacement. Here are some recommended books.
Navigate to the Booklists for:
Recommended Booklist for Adults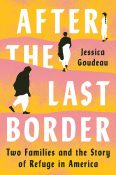 After the Last Border: Two Families and the Story of Refuge in America
Jessica Goudeau 
After the Last Border is an intimate look at the lives of two refugee women resettled in Austin, Texas, almost a decade apart, and their struggle for the twenty-first century American dream. The book situates their dramatic, character-driven stories within a larger history–the evolution of modern refugee resettlement in the U.S., revealing not just how America's changing attitudes toward refugees have influenced policies and laws, but also the profound effect on human lives.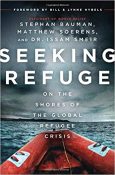 Seeking Refuge: On the Shores of the Global Refugee Crisis
Stephan Bauman, Matthew Soerens, and Dr. Issam Smeir
Three experts offer a practical, well-rounded, well-researched guide to the refugee crisis. Drawing from history, public policy, psychology, many personal stories, and their own unique Christian worldview, the authors offer a nuanced and compelling portrayal of the plight of refugees and the extraordinary opportunity we have to love our neighbors as yourself.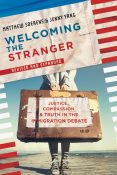 Welcoming the Stranger: Justice, Compassion & Truth in the Immigration Debate
Matthew Soerens and Jenny Yang
Moving beyond rhetoric, this book offers a Christian response to immigration. With careful historical understanding and thoughtful policy analysis, they debunk misconceptions about immigration and show the limitations of the immigration system. They point toward immigration reform that is compassionate, sensible, and just. They offer concrete ways for you and your church to welcome and minister to your immigrant neighbors.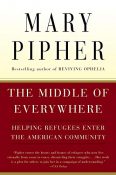 The Middle of Everywhere: Helping Refugees Enter the American Community
Mary Pipher
In cities all over the country, refugees arrive daily. Lost Boys from Sudan, survivors from Kosovo, families fleeing Afghanistan and Vietnam: they come with nothing but the desire to experience the American dream. Their endurance in the face of tragedy and their ability to hold on to the virtues of family, love, and joy are a lesson for Americans. Their stories will make you laugh and weep, and give a deeper understanding of our wider world.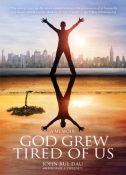 John Bul Dau with Michael S. Sweeney
"Lost Boy" John Bul Dau's harrowing experience surviving the brutal horrors of Sudanese civil war and his adjustment to life in modern America is chronicled in this inspiring memoir. The book traces Dau's journey through hunger, exhaustion, terror, and violence as he fled his homeland, and then recounts the shock of his tribal culture colliding with life in America with touching humor. He shares the joy of reuniting with his family and the challenges of making a new life for himself while never forgetting the other Lost Boys he left behind.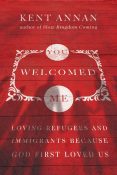 You Welcomed Me: Loving Refugees & Immigrants Because God First Loved Us
Kent Annan
Annan explores how fear and misunderstanding can motivate our responses to people in need. He invites us into stories of welcome — stories that lead us to see the current refugee and immigrant crisis in a new light. He lays out simple practices for a way forward: confessing what separates us, listening well and partnering with, not patronizing, those in need. 
Recommended Booklist for Kids Ages 10 & Up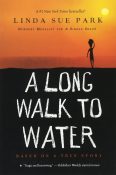 Linda Sue Park  
This book begins as two stories, told in alternating sections, about a girl in Sudan in 2008 and a boy in Sudan in 1985. The girl, Nya, is fetching water from a pond that is two hours' walk from her home: she makes two trips to the pond every day. The boy, Salva, becomes one of the "lost boys" of Sudan, refugees who cover the African continent on foot as they search for their families and for a safe place to stay. Enduring every hardship from loneliness to attack by armed rebels to contact with killer lions and crocodiles, Salva is a survivor, and his story goes on to intersect with Nya's in an astonishing and moving way.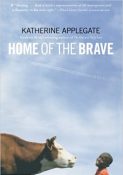 Katherine Applegate  
This book is inspired from the stories of the Lost Boys of Sudan. In Africa, Ken lived with his mother, father, and brother. But only he and his mother have survived, and now she's missing. Kek is on his own. Slowly, he makes friends: a girl who is in foster care, an old woman who owns a rundown farm, and a cow whose name means "family" in his native language. As Kek awaits word of his mother's fate, he weathers the tough Minnesota winter by finding warmth in his few friendships, strength in his memories, and belief in his new country. A beautifully written story that helps the reader empathize with the loss and struggle of young refugees.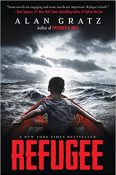 Alan Gratz 
Follow the lives of a Jewish boy in 1930's Germany, a Cuban girl in 1994, and a Syrian boy in 2015 as they go on harrowing journeys in search of refuge. All three face unimaginable dangers, but there is always hope of tomorrow. Although the three children are separated by continents and decades, shocking connections will tie their stories together in the end.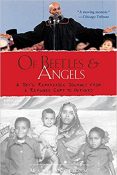 Mawi Asgedom  
Read the remarkable true story of a young boy's journey from civil war in east Africa to a refugee camp in Sudan, to a childhood on welfare in an affluent American suburb, and eventually to a full-tuition scholarship at Harvard University. Following his father's advice to "treat all people—even the most unsightly beetles—as though they were angels sent from heaven," Mawi overcomes the challenges of language barriers, cultural differences, racial prejudice, and financial disadvantage to build a fulfilling, successful life for himself in his new home.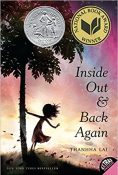 Thanhhà Lai 
Inspired by the author's childhood experience as a refugee — fleeing Vietnam after the Fall of Saigon and immigrating to Alabama — the coming-of-age debut novel told in verse has been celebrated for its touching child's-eye view of family and immigration. 
Recommended Booklist for Young Children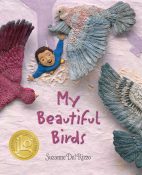 Suzanne Del Rizzo  
Escaping the bombing of his Syrian neighborhood, Sami follows a long line of people trudging through the hills to a refugee camp. People patch together new lives, but Sami cannot participate. All he can think of is his pet pigeons — will they escape too? What will it take for Sami to begin the healing process? A gentle yet moving story of refugees of the Syrian civil war, this book illuminates the ongoing crisis as it affects its children. It shows the reality of the refugee camps, where people attempt to pick up their lives and carry on. And it reveals the hope of generations of people as they struggle to redefine home.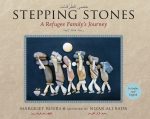 Stepping Stones: A Refugee Family's Journey
Margriet Ruurs (Author), Falah Raheem (Translator), & Nizar Ali Badr (Artist) 
This is the story of Rama and her family, who are forced to flee their once-peaceful village to escape the ravages of civil war. With only what they can carry on their backs, Rama and her family set out to walk to freedom in Europe. Nizar Ali Badr's stunning stone images illustrate the story.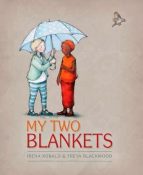 Irena Kobald and Freya Blackwood 
Cartwheel moves to a new country with her auntie, and everything is strange: the animals, the plants — even the wind. An old blanket gives Cartwheel comfort when she's sad — and a new blanket just might change her world. This multicultural story of friendship is about leaving home, moving to a foreign and strange place, and finding a new friend. It's a story for all who have experienced changes. Poetic text and powerful paintings render an emotional and heart-warming story about two children from diverse backgrounds coming together to become new friends.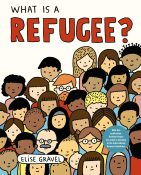 Elise Gravel   
Who are refugees? Why are they called that word? Why do they need to leave their country? Why are they sometimes not welcome in their new country? In this relevant picture book for the youngest children, author-illustrator Elise Gravel explores what it means to be a refugee in bold, graphic illustrations and spare text. This is the perfect tool to introduce an important and timely topic to children.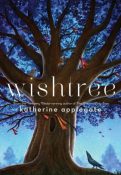 Katherine Applegate  
Red is an oak tree who is many rings old. Red is the neighborhood "wishtree" — people write their wishes on pieces of cloth and tie them to Red's branches. Along with her crow friend Bongo and other animals who seek refuge in Red's hollows, this "wishtree" watches over the neighborhood. You might say Red has seen it all. Until a new family moves in. Not everyone is welcoming, and Red's experiences as a wishtree are more important than ever. Funny, deep, warm, and nuanced, this is writing from the heart, and from a completely unexpected point of view.