Get Involved During COVID-19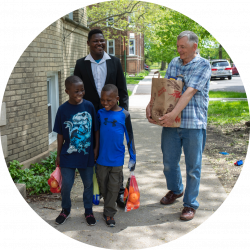 Collect & Deliver Essential Supplies
In the Greater Chicago Area
Welcome to America! Packs
Turn an empty apartment into a home by collecting and delivering basic household items for the kitchen, bath and bedroom, as well as a first month's supply of food staples. You'll meet a refugee individual or family on the day they arrive in the U.S. and personally welcome them with the essentials. See the list or sign up now.
Grocery Care Packs
Help meet the needs of refugee families who have lost their jobs or are underemployed due to the COVID-19 pandemic, as many families are experiencing food insecurity. You can participate in a Grocery Care Pack event by sorting, packing, and/or delivering food and essential items to the doorsteps of refugee families. This is a great opportunity for individuals and small groups. View event dates and sign up now.
Baby Care Packs
Refugee families don't have their normal community of family and friends around them to help welcome a new baby. You can bless refugees by collecting and/or delivering much needed items such as clothing, blankets, bottles, diapers and baby wipes to families that are expecting a new arrival. See the list or sign up now.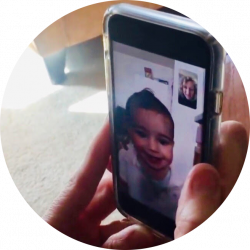 Connect Virtually With Refugees
New Neighbors
You can conduct "virtual visits" or socially-distanced outdoor visits with refugees living in the greater Chicago area once a week for three months using video chats, phone calls, texts and other platforms. This is a great opportunity to show care for refugee neighbors and to build friendship. Sign up for information.
New Neighbor for Youth
This is an opportunity for an adult volunteer to visit virtually with an elementary or middle school student once a week for three months in coordination with Exodus and the child's parents. Volunteers offer students help with reading, writing and conversation skills. Refugee kids grow in confidence through this consistent mentoring and guidance.
Sign up for information.
Learn about additional New Neighbor programs here.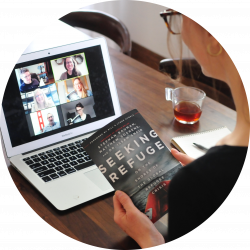 Book Club
Join with others for Book Club to read and discuss After the Last Border: Two Families and the Story of Refuge in America by Jessica Goudeau. Book Club meets on Zoom every Thursday at 7:00 pm CST for 8 weeks starting January 7, 2021. Participation is free, but registration is required.
Bible Study
Refugees are our neighbors. As we grapple with what it means to live out our faith by loving our neighbor, we need guidance. We need Scripture to inform our discussion, thought-provoking questions to frame our conversation and stories that touch our hearts and minds. Who Is My Neighbor? What the Bible Says About Refugees is a four-week Bible Study that comes alive when you're able to seek answers and discuss with other people. The Bible Study is free for download for you, your small group or congregation.
In addition, stay tuned for a virtual Bible Study discussion group — dates TBD.

Engaging with Refugees: Cross-Cultural Training (virtual)
This training prepares you to engage with refugees. It offers in-depth learning and activities to broaden a volunteer's understanding of who refugees are and how they get to the United States, as well as how to navigate cross-cultural communication and friendship. Register for a training today, or contact Jody May at jody.may@exodusworldservice.org for more information.
Recommended Reading Lists
Learn more about refugees and the issues surrounding resettlement by checking out our recommended reading page, or download the reading list flyers below.